Hello and welcome to KNS Gear.
Kristin and Steve have designed KNS Gear and KNS Transplant Gear to be an outlet for all things transplant. Transplant being Organ donation, transplantation and awareness, not the act of actually moving from city to city!
We have a fun history and an interesting beginning to the business, so let me take the time to set up the story on our first day of this blog.
Kristin and Steve, ("KNS"), started their transplant journey separately but both many years ago. Kristin became involved with the local transplant community when her ex-husband needed a liver transplant back in 2005. Steve is a liver and 3-time kidney recipient who has kept active with a variety of transplant organizations since his first transplant 21 years ago.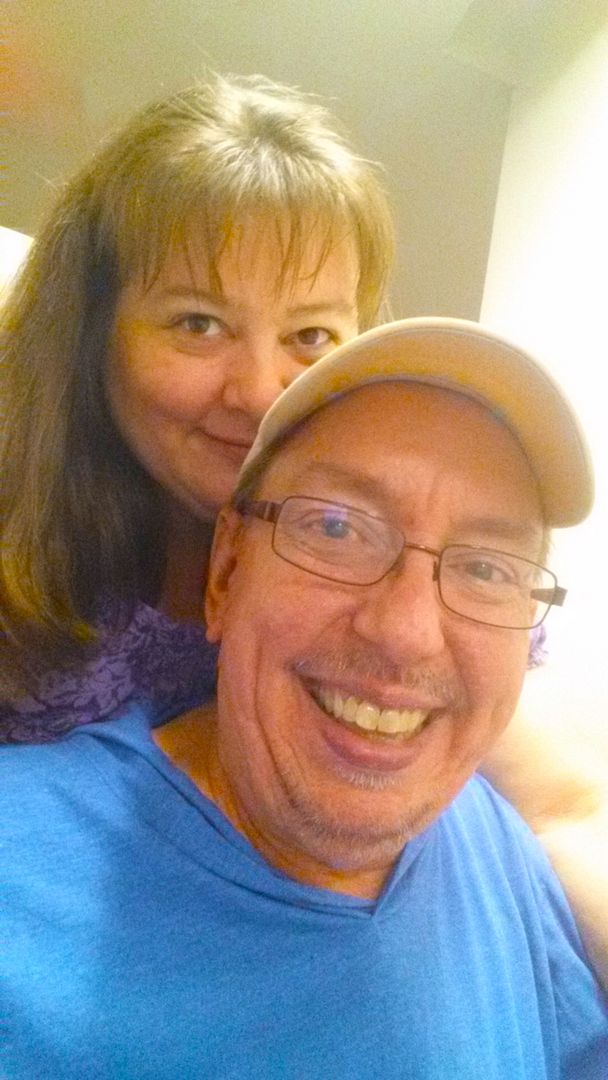 Brought together by Steve's need for a 3rd kidney, Kristin and Steve formed a friendship, a bond that was strengthened by their mutual desire to help transplant patients. Together they decided to reach out beyond their local transplant community to help others celebrate the success of transplant and assist those in need of a transplant by promoting donor awareness.

Kristin and Steve were married in 2015 and have grown both as a couple and a team. They have worked hard to build their store's online presence through their website, Facebook page and now a blog. For them it's all about raising awareness...awareness through everyday moments with friends, family, co-workers, and strangers. They know that it's about starting the conversation - the conversation about transplant and the growing need for donors. They also wanted to expand the selection of designs that were out there for purchase.
KNS Gear offers a wide variety of cool and unique designs, including dozens of transplant-related designs, holiday designs, and just-for-fun designs. We offer these designs on tees, mugs, greeting cards, custom postage stamps, kitchen and household items.
So many items are customizable and all are available in our Zazzle stores.
Please contact us at knsgear@gmail.com if you have any questions about our ordering process, designs you wish to see or items you wish to see our designs on. We are more than happy to hear from our community.
​
Thank you! Kristin 'n' Steve




Here's why we use Zazzle to sell our designs. You can buy ANY of our designs on over 100 styles of men's, women's, and children's shirts and other attire.

You can customize each shirt by choosing your size and color and on most of our designs you can even choose to add your own text!
Zazzle frequently offers great discounts on their products. Simply go to Zazzle's website and sign up to receive exclusive offers by email. May we suggest that you always look for a sale code!
We have 4 Zazzle stores, at the moment. KNS Gear is a glimpse into all of our stores and rolls out some of our designs that we are testing.
KNS Gear began as a business offering donor awareness and transplant-inspired apparel and gifts, in hopes of helping the transplant community help raise donor awareness. The store has expanded and now offers a wide range of items in a variety of categories - Pets, Coffee Shop, Just for Fun and Holidays. It's also our testing ground for new products.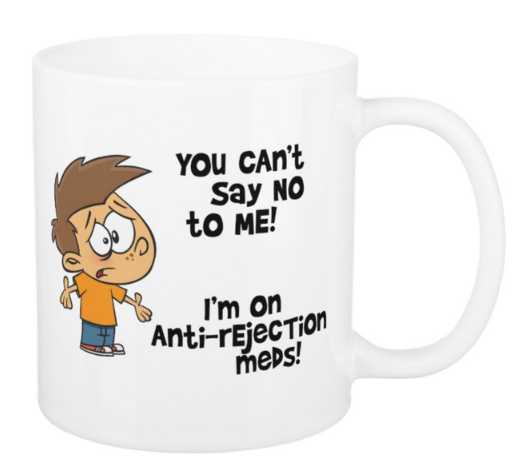 You can't say no to me Coffee Mug
KNS Transplant Gear is where you will find everything transplant related. T-shirts, tote bags, coffee mugs, cell phone cases and anything else we design for our transplant friends!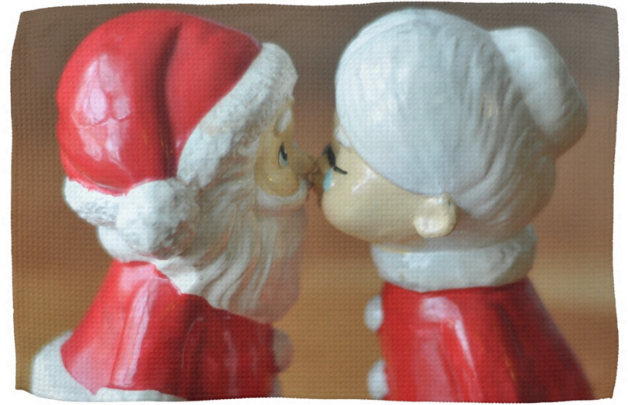 Kissing Mr and Mrs Santa Claus on a custom kitchen dishtowel from the
KNS at Home collection.
KNS at Home is where we focus on our beautiful photos and designs. Each will give a unique look to your home. We've incorporated some of Kristin's most elegant, quirky, and everyday photos into our designs. Her images bring a touch a humor, romanticism, and nostalgia into daily life - Dishtowels, light switch covers, acrylic trays, and Christmas ornaments to name a few.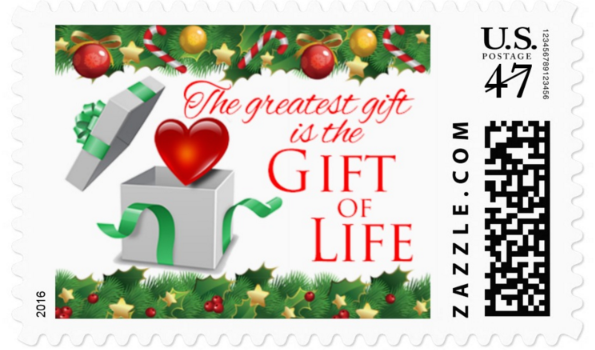 Share the Gift of Life with this custom postage stamp from the
KNS Card Shop.
KNS Card Shop - Kristin has a distinctive eye for photography and it shows in her images. From luxurious and ornate to subtle and melodic, her images capture the essence of life that surrounds us. Kristin's photos, along with Steve's designs, offer you an array of emotions to express in your greetings to family and friends. Custom designed postage stamps round out the card shop.
You can register to be an organ donor at Registerme.org